In the lands Beyond the Mountain where arrows fly free
Legends are born at the Royal Championship of Archery
Be you novice or veteran, noble or serf, young or old,
May your aim strike true, and bring home the gold.
Wonders await for those passing the day
Where trickster gods lie await at a Farmstead named Zagray.
By day artisans and merchants shall also gather in a row,
And a practice range will be available for those new to the bow.
Foresters, brewers, and teachers of themed classes we do invite,
And for far-flung travelers and friends, we offer camping under starlight.
Join us all for a modest repast before the Tournament is won,
And the court of Caoilfhionn and Brennan shall follow, before the day is done.
So come join us in chasing away gods of trickery and at least one mythical beast,
And rise to meet the Champions' challenge, bringing honor and glory to the East!
East Kingdom Event Announcement
Facebook Event Announcement
Although the SCA complies with all applicable laws to ensure the health and safety of our event participants, we cannot eliminate the risk of exposure to infectious diseases during in-person events. By participating in the in-person events of the SCA, you acknowledge and accept the potential risks. You agree to take any additional steps to protect your own health and safety and those under your control as you believe to be necessary.
---
SCHEDULE:
Friday:
3:00 PM Site opens
5:00 PM Championship Roving Range opens for Essential Staff & Working Marshals only
8:00 PM Championship Roving Range closes until Saturday morning.
10:00 PM Gate closes. All late arrivals must call the number at the gate (no calls after 11pm)
Saturday:
8:00 AM Site/Gate reopens
9:00 AM Practice range opens, Merchants open
10:00 AM Morning Court, followed by Championships (Mass shoot, followed by Roving Range for populace)
11:00 AM Artisans Row opens, Classes begin
11:30 AM Dayboard opens
2:00 PM Dayboard closes
3:00 PM Championships Finals (Practice Range Closes)
4:30 PM Merchants and Artisan's Rows close, Classes end
5:00 PM Baronial Court of Their Excellencies Mark and Gwenllian, followed by Evening Court of Their Majesties Brennan and Caoilfhionn.
Sunday:
Anyone remaining on site after Noon will be thanked for their assistance with site breakdown and cleanup. Thank you for visiting Barony Beyond the Mountain!
---
Feast:
Dayboard is included in the price of admission. There is no feast.
While there is potable water at the dining pavilion, attendees are encouraged to bring extra water of their own. If you have any food allergies or concerns please contact at Sisuile at bbmfood@bbm.eastkingdom.org
Dayboard Menu:
Tartlets:  Spinach and cheese, Beef and mushroom
Chicken Stew
Cubed cheese
Hard boiled eggs
Hummus
Fresh vegetables:  Carrots, Celery, Broccoli, Cauliflower
Cookies
Rolls and butter
Pickles
Lemonade
Water
Infused (fruited) water
---
Site Map and Program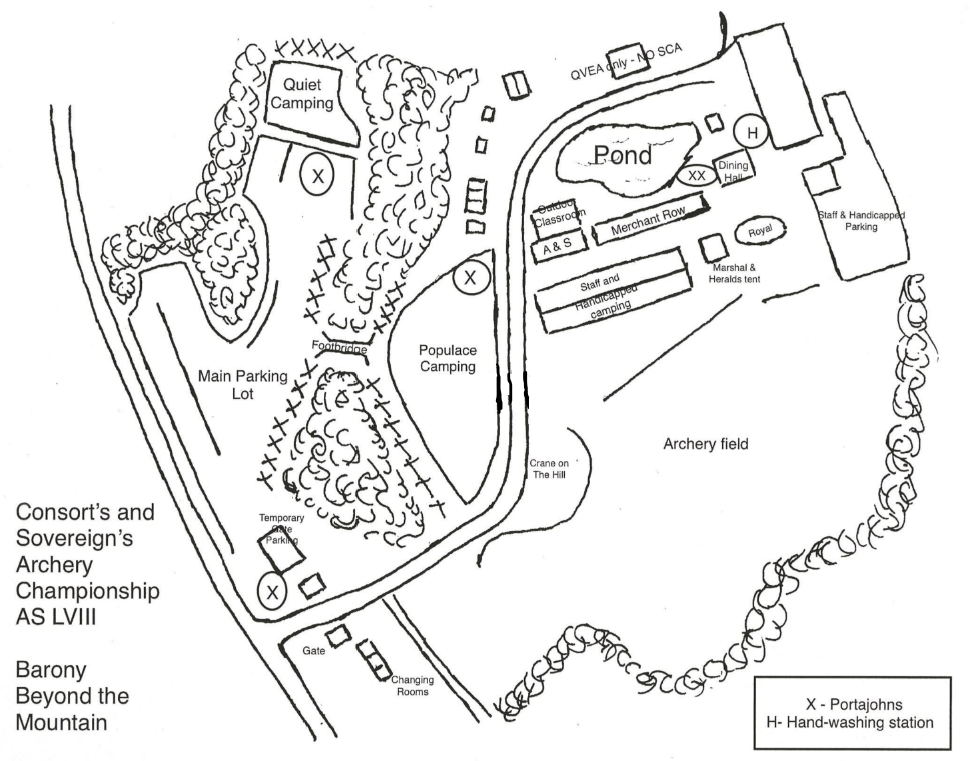 Off-Site Amenities
An event guide featuring dining options (including takeout & delivery), hotels, firewood locations, and area attractions will be published on our Baronial website shortly. While we offer camping on site at a VERY affordable rate, please consider that area hotels/campsites/vacation homes may have limited space and higher pricing due to spring graduations and early summer attractions.
Site Rules and Notes
This site is an historic 1930s-1950s preservation site and farm. The site owners will have their own volunteers working on the north side of the pond during the daylight hours of our event. Please be courteous to the volunteers as they pass through to their work site and give them right of way.
The following parts of the site are off limits:
• The pond (no swimming or fishing).
• Any building other than the dining pavilion
• In the event of a brief weather event, guests may shelter under the dining pavilion or eaves of the tractor exhibit hall.
• Any farming equipment on site is a permanent exhibit and is not to be climbed/sat on.
The pond is our boundary line. Please stay on our side of it unless you are driving to the handicapped/staff parking area.
Please do not block the roads, and please maintain a vehicle speed of 10mph or slower.
Please park in designated areas only, and please be respectful of the 1 residence at the far end of the parking lot. This is a quiet zone, and headlights should be dimmed in that area.
This site is wet, please clean up after yourselves (carry in/carry out).
This site is also dog-friendly to well-behaved dogs on leashes. Owners, please be kind and clean up after your dogs.
CAMPSITE RULES (Camping Coordinator: Baroness Kay Leigh Mac Whyte):
• Above ground fire rings (no dug pits no rings directly on grass), propane stoves, tiki torches, and citronella candles are permitted.
• Campers are requested to bring their own fire extinguishers or sand.
• The only light source on site after dark is the dining pavilion, which will be off after 10pm nightly.
• Campers may drive in to drop off their gear at their site, but must move their vehicles immediately after drop-off to the designated areas.
• Anyone leaving the site after nightfall for dining options should be wary of the blind turn to the left at the site entrance/exit.
• There are 4 camping areas: Populace (bordering the stream), Staff and Handicapped (near the dining pavilion), Merchants Row (merchants only), and Quiet Camping. Please be mindful of your neighbors and do not raise voices in designated quiet areas after posted hours or before 7:00 AM daily.
• CT State Law prohibits out of State firewood. Firewood will be available from hardware stores and gas stations in town, 5 minutes from site.
• Please respect our local wildlife and remember the field you are in is their home when humans are not using it. Please clean up after yourself, and don't leave food outside overnight.
Site Opens: 3:00 PM Friday, May 19, 2023
Site Closes: 12:00 PM Sunday, May 21, 2023
---