My name is Baroness Nastassiia Ivanova Medvedeva, better known as Tasha. I'm from the Canton of the Towers, which is part of the Barony of Carolingia (the greater Boston area — Towers is the North Shore and I live near the Stonemarche border). I've been in the SCA for umpty-mumble years, and my specialty is Viking Age clothing and fiber arts.
I'm excited for this challenge. I just spent four months making a set of men's clothes for myself and barely finished in time, so making a set of women's clothes should be a doddle, right? I do that all the time, right?
Not so fast… Because I can't leave well enough alone, I'm not making my usual "I could make this in my sleep" Hedeby apron dress. It's time to do something new.
I'm going to make a Køstrup dress, which is a pleated, theoretically in the front, which, if you make it to "spec", can be very flattering. I'm going to use this gorgeous "Bombay brown" wool that I got for dead cheap from a store in New York. The original was blue, but I have the brown, and this is also achievable with period dyes.
I'm going to make a linen serk the way I just made my wool tunic; I need to make a pattern layout for it. Luckily I bought 4 yards of fabric, so I have a lot to play with. I haven't decided yet if there will be a shoulder seam. It will depend on how I draw the layout. I'm thinking probably not. A double length for a front and back is a lot.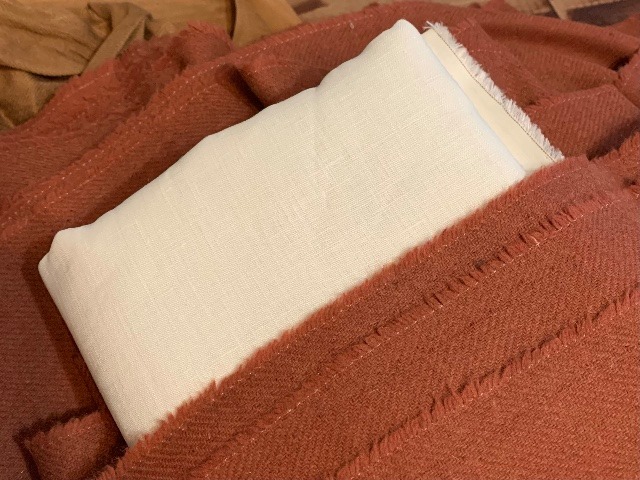 And then in the original find, there was a strip of tablet weaving located between the two brooches, and that is going to be an interesting challenge, and not only is it brocaded, it's done in wool, which is Very Sticky, and there are (in some interpretations) only two holes per card. I might need to mock this up in cotton, just to practice with a missing hole technique.
Other accessories I intend to make are hose (which I am allowed to make ahead of time, and I just might do that), a headscarf, and shoes — simple slipper-like shoes shouldn't take me too long. The headscarf was woven to size in period, but I'm going to take a wool scarf from Amazon that's woven in a diamond twill pattern, cut it to size, and hem it. I don't have anything the right weight in my stash and I can get just about exactly what I want out of this scarf. Should be interesting.
I blog most of my progress on Built Fjord Tough — click on the link and you'll go straight to my latest blog post. Twice a week I'll upload a summary of what's been going on there to this site, so you can get twice the exciting Viking hand-sewing action! (I've videoed myself sewing. It's not that exciting, TBH, but the end results are amazing.)
So that's me then. Let me know if you have any questions in the comments (if there are comments; I'll have to check), and you can follow my progress by clicking on the Built Fjord Tough category. Talk to you soon!