F. Of Eyelet Tape and Under-Stitches
During the week I can only hand-sew because there are three people working from home, and one work station is too close to where the machine sewing gets done, so that is saved for the weekend. So throughout this week, after I clock out of work, I have been under-stitching the neck, the right arm hole, and the deep left side opening, and attaching the eyelet tape to the left side opening.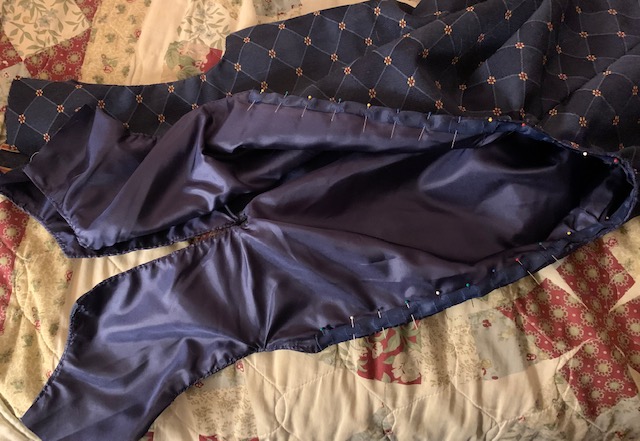 The under-stitching was finished on Tuesday night, the eyelet tapes attached last night after this picture was taken.
I have turned the dress wrong side out again to attached the shoulders together, and to slip stitch the top outer edges. By the start of the weekend, I hope to have machine-sewn the hem and finished the saya. The pellote will be cut and perhaps partially sewn together by Sunday. My progress by Sunday night will determine whether I also undertake to make another camisa or make do with using the one I made late last summer as an underpinning. The pellote will be more straightforward to cut and construct than the saya, but I am still debating whether to cut some velvet to make trim for the pellote's sides, or to just use some trim I already have on hand. The details of the debate will be saved for that entry.