Mar 12
I finished the tablet weaving for my project tonight. It went a lot faster than I expected — brocading is a LOT simpler than you'd think. You don't have to keep track of how you manipulate the cards; you just keep turning them. All you have to do is count which threads you go over and which you go under with the brocading weft, which is comparatively easy.
About the only mistake I could make is to pass the brocading weft without passing the ground weft, and I countered that by starting the two different wefts on opposite sides of the band. If they're on the same side when I go to turn the cards, I've done something wrong.
So according to the archaeology, the original band was woven with two empty holes in each card. Originally I wasn't going to do that, because the tablets can go all squirrely with only two holes holding warp and the warp threads can get out of place really easily. Upon doing some accounts written by other weavers (SCA and not), I decided to test it and see what I thought.
I bought a one-pound cone of Jaggerspun Maine Line 2/20 in color 0440, French blue, and used that as my ground color. I warped 14 pattern cards with threads in opposite corners, based on the pattern found in the article on the Køstrup dress by Hilde Thunem, and then added two selvedge cards on each side with threads in all four holes to add a bit of stability on the edges.
I used doubled strands of Madeira Burmilana wool/acrylic thread for the brocading weft, and Bockens 60/2 dyed linen lace thread that I purchased from Vävstuga for the structural weft. I'm happy with my weft choices, though I wish I'd gone with something a bit sturdier and heavier for my weft. The band turned out narrower than I would have wished, and the yarn got very fuzzy — I was waiting for a thread to snap, at which point I probably would have cried bitter, bitter tears.
The outside cards were arranged so the cards leaned towards each other, while the pattern cards all leaned towards the left, or in an S lean (also known as Z threaded).
My reading had turned up a recommendation from Shelagh Lewins to arrange the pattern cards so that they were offset from one another as shown, every other card having the top thread in the front hole.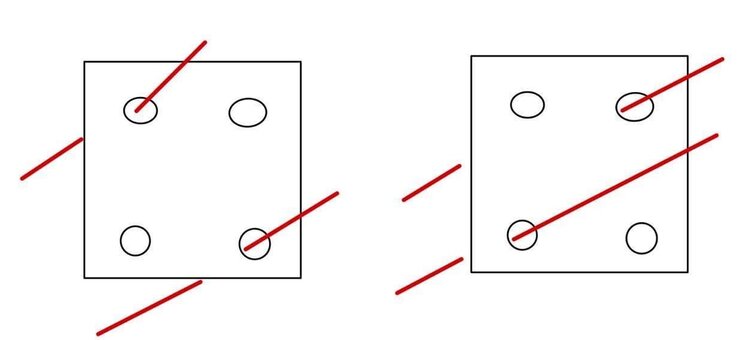 With the cards arranged this way, they stayed in place more readily, but also the structural weft would be caught every quarter turn instead of every half turn, making the weaving much simpler.
I set up my warp on my copper pipe loom, which my friends have dubbed my steampunk loom. I use this loom when I don't need a lot of length. It's quick to assemble, gives extremely fine control over tension, and the warp glides over the pipe, making it easy to advance.
There were five motifs on the original band. Four of these are shown in the gallery above, while the fifth looks like an unfinished swastika and I do not wish to recreate it.
Having all the pattern cards leaning the same way has the side effect of making the band twist once it's off the loom (and it makes a damn good stab at twisting while on the loom), so I ironed it with a lot of steam to try to kill that tendency. It's reduced, but I think that if it got wet it would spring back to the original attempt at spiraling.
Overall, I'm quite happy with the results. I will be sewing loops on the ends of the band so it can slip over the loops of my apron dress. This was my first time brocading for a project, and it's much less daunting than I anticipated (who am I kidding — it intimidated the hell out of me!). I fully expect to do a full-on fancy project in brocade in the future.
The best part of all this is that I warped this up on Wednesday and finished it on Friday night, including this write up. I know that it's only 5 little motifs and 13" of weaving total, but I really did expect this to take longer.
Anyway, the cat is telling me it's time to go to bed, and I think I should listen to him. Night, y'all.