2. Hemming the Liner, and Twill Tape Reinforcement
The liner will be hemmed using the remaining twill tape. I attempted to use the machine for this, hoping against hope that it would work, but after one side panel was completed, the thread kept tangling, so the rest of it is being done by hand during the week. I did have some twill tape left over to hand sew onto the keyhole neckline to give that some reinforcement, and to place at the shoulder seams over the seam allowances.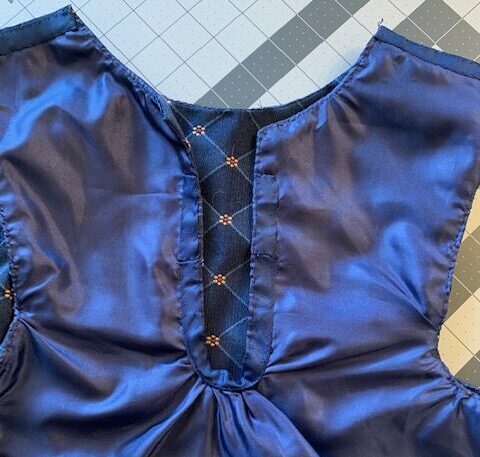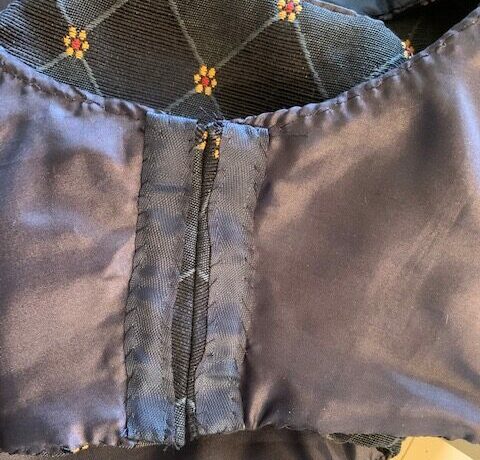 H. The Underpinnings
I had forgotten to mention the underpinnings earlier, so here follows the list, before I begin to mention the pellote, the last layer out, in a later post.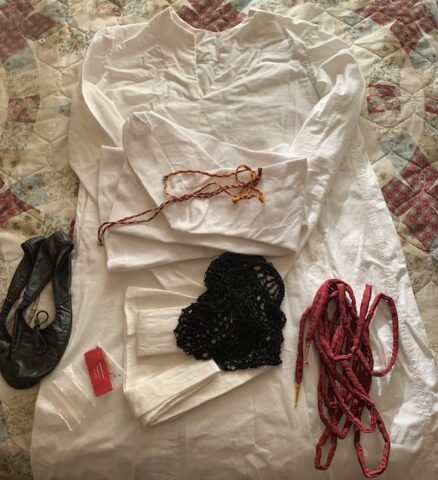 I made the cotton camisa last summer, partially by machine for the straight seams, the finishing of the seams and the facing at the neck by hand. I used Period Patterns No. 90, the earliest of the patterns from that package, the late 13th/early 14th century cut.
The linen hose were purchased at Virtual Midnight Madness, from UnderWares.
The garters were a gift of largess from a Gulf Wars so long ago I don't wish to admit to it. That they still work is a testament to their maker.
The pins are from various merchants I have visited over the years.
The barbette and fillet and snood are from Historic Enterprises, also purchased from Virtual Midnight Madness this past summer.
The cording was made from fabric scraps last summer, the aglets from a set I had bought some time back.
The shoes are simple ballet slippers, as the more period shoes I could be using are showing their age and I am saving to purchase a replacement once I know for a fact I will be attending some kind of event later on.