What's so exciting about an underdress? Keyhole neckline, extra-long sleeves to ruche up, ankle length w/ wide gores for fullness, no big deal right? Wrong, and it's all St Hugo's fault! See, a couple years ago, I came across this image in Pinterest: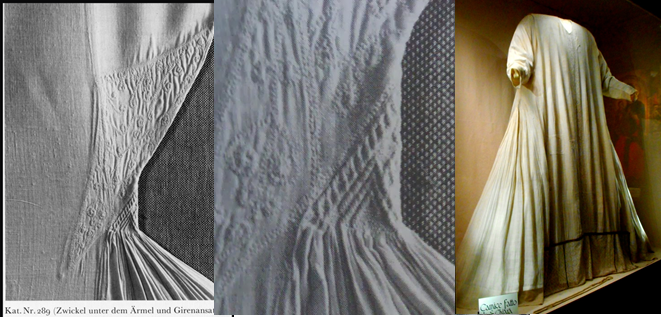 This is the underarm gore of the alb of St. Hugo, and it's not the only one, there is , the tunic of St. Thomas a Beckett, the tunic of St. Francis, and the alb of St Bernulf of Utrecht, all from the 11th and 12th centuries, and all show this technique. There is even a chemise showing this technique although I have no dating on it. On seeing this, right away, my mind jumped to the pleated look of the bliauts of the Chartres Cathedral sculptures, and would this technique give that look. But how to do this? Just recently I found Italian Shirring | Amalie's Assortment where she attempted to recreate this effect with a technique referred to as Shirred Italian Smocking and suggested the book The Art of Manipulating Fabric by Colette Wolff for guidance. And I was off!
The first thing to do was draft a pattern that would give the design seen on the St. Hugo garment. OK, done. Not as many diamonds going up the outside edge, and a guess as to what the middle design looks like since only the edge of it can be seen from the photo, but I think this should do it (the red shade areas do not get gathered in the smocking and give rise to the raised puffy parts of the design). Done!
Then the points not covered by red had to be pricked so that I could transfer the design onto the fabric. Done!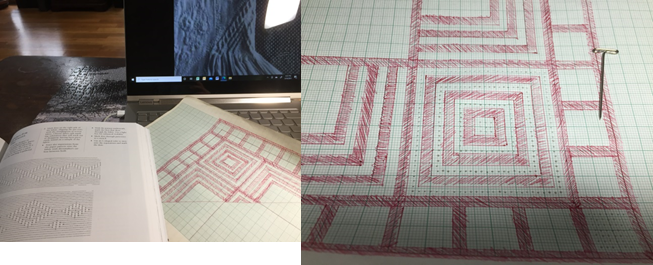 And then with the help of some powdered chalk, the transfer of the design to the fabric: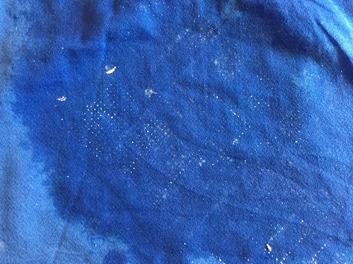 Epic fail! Not only did I not get the complete design, but as soon as I picked up the fabric, most of the chalk just fell off. I repeated the attempt really pushing the chalk through, with not much improvement in pattern transfer, and the chalk still won't stick to the fabric. So then I got the bright idea of trying to fix the chalk to the silk after the transfer using spray starch. Still no go. OK, how about I wet the fabric with starch first and then pounce the pattern on with the chalk. Really bad idea! The chalk gummed up in the pattern holes, necessitating repricking the whole pattern. Time to stop for the day and regroup. Suggestions? Help? Anything would be welcome!
As a fall back plan, there is this tunic from a slightly later date (early 13C), but that seems like cheating at this point.