Can I just say that I'm super happy with the final version of the shirt? I am. The test version was – meh. Collar and cuffs were… unremarkable. So I changed them . And I mostly hand sewed the final shirt. (I attached the collar and cuffs with machine because I was worried about seam strength). Anyway without further ado – lowkey fancy shirt: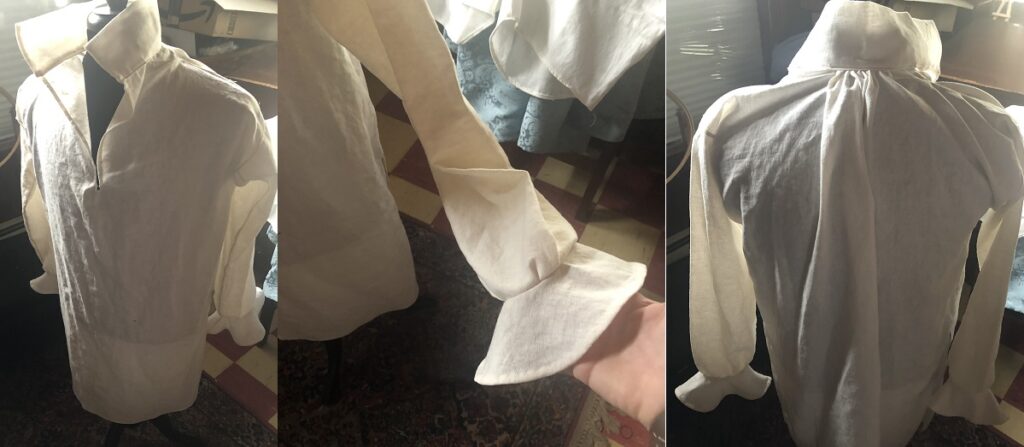 I followed the basic geometric pattern of period shirts and incorporated a more flared cuff. I did that based off of the visible ruffled cuffs in portraits. There's a little bit of weird bunching on the back and next time I'll likely make smaller neck gussets to correct that. While many period shirts are embroidered I opted not to do that with this one as it will be largely covered by subsequent layers. Ties for the collar (silk cord made on my lucet) will be added tonight once the boy is here. I'm also please to say that while I generally dislike hand sewing (see previous post) I was very pleased with this and even impressed myself with the blind hems on the cuffs and neckline. Seam pictures below:
Now then – the drawers. Not hand sewn because as previously mentioned – boy had tree trunk muscular legs and is a fencer. He lunges randomly simply because he can! So was wanted strength. I did make the drawstring cord out of silk on the lucet and then braided it. Overkill? nope – boy destroys drawstrings.