This project is designed to turn Lord Frithuric Ulman into Il Cavaliere in Rossa (rather than in Rosa) as in the Moroni Painting.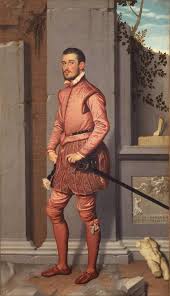 The items in this project:
Una camicia di lino con ricamo bianco (Shirt with embroidery)
Calzoni di lino (Linen underpants)
Fazzoletto di lino (Linen handkerchief)
Giubbone di Seda (Silk Doublet)
Calzone Tedesco (Trunkhose)
Cinta di pelle (Leather belt)
Cinte da Gamba (Garters)
Calze di lana (Wool knit hose)
Capello Tedesco (German-style hat)
Codpiece
The camicia, calzone, and hose are complete and will have finishing touches added between now and the end of February. I have also built a hat block and will be warping the loom before we begin to ease that time expenditure. Both the garters and the trim on the giubbone will be woven.
And so it begins. Corresponding blog post: http://fioredibardi.net/2021/02/08/velutto/
Ciao, Fiore
I am Nobildonna Fiore Leonetta Bardi (Fee-oh-re) also known as Fiore di Bardi (she/her). Primarily a costumer, I specialize in Florentine dress from the mid-1560s to ~1590, hand sewing, and embroidery. My area of interest includes research of life as an illegitimate woman in Florence, the Florentine Camerata, artifacts and practices for a noblewoman of this time — including the practice of hunting and falconry in Florence, and Florentine textiles. I am increasingly interested in the people we try not to see and which most would have tried not to see even in the 16th-century, namely those of mixed race in Europe. Especially how a person of my lineage (I am of African, French, and Spanish descent) would have lived in 16th century Italy. Motto: Penso e Creo * Blog: www.fioredibardi.net * Instagram: @dressingflorentine