The sewers on this team are Gwynnyd (dress and model) and Catherine-Aimée (hat maker). Between us we have nearly a century in the SCA. We are both peers, but Pelicans not Laurels. Our home group is the Barony of the Roaring Wastes in the Midrealm. Coincidentally, we have also both been landed Baroness of the group. Even weirder, I, along with Mistress GraziaGeralda, was autocrat of the first Golden Seamstress event in the Midrealm back in 2001.
The outfit I've chosen to make for this contest is the "May" illustration from The Master of Claude de France, painted around 1517-20.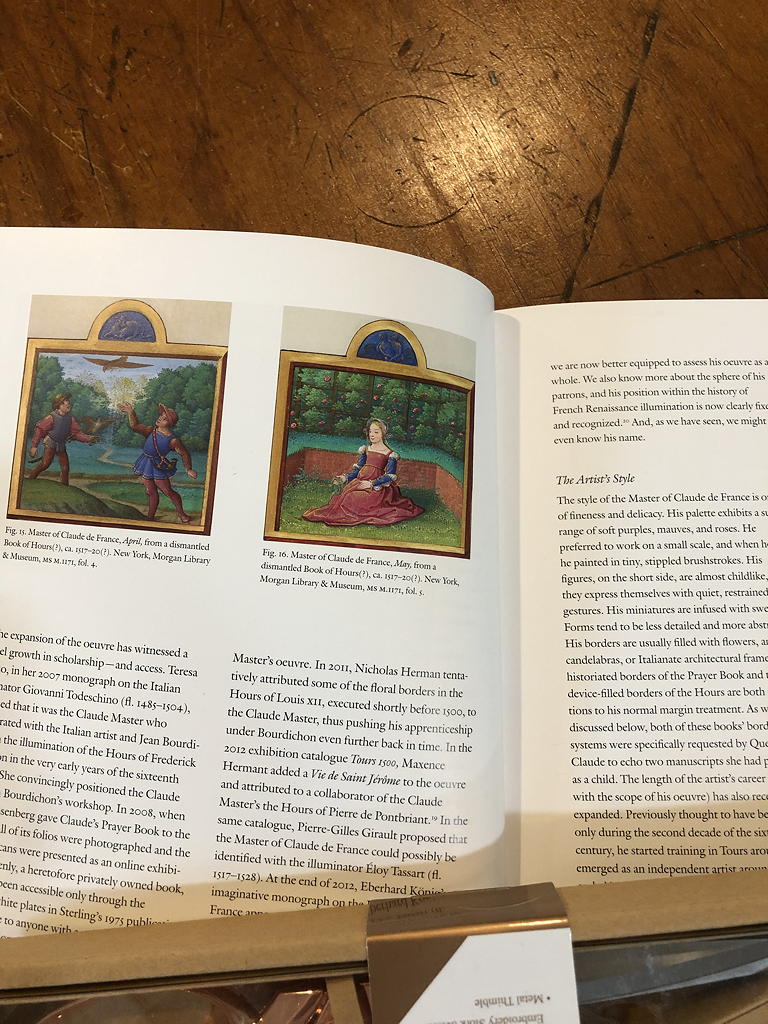 You'd think that after so many years in the SCA and making my own garb, I'd know how to make a pattern. That, however would be a no. I have always either used or altered commercial patterns. I used to be a perfect pattern size 10. This is no longer the case. I have decided to start drafting my own patterns, so why not start with this project? No point in making it too easy.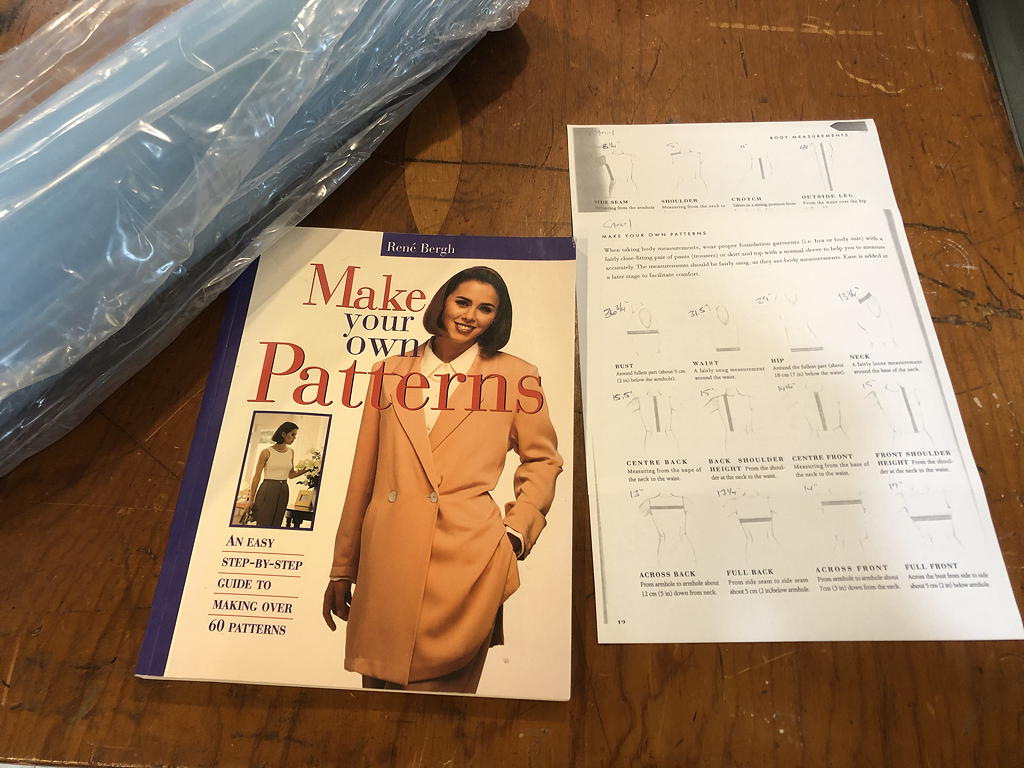 The chemise fabric is white linen gauze. It is even finer than handkerchief weight. As you can see, the cover of the book shows up through it. It will gather well and drape nicely out of the sleeves. This has been pre-washed but not yet ironed. I was hoping that this would also work for the hat… but… maybe not.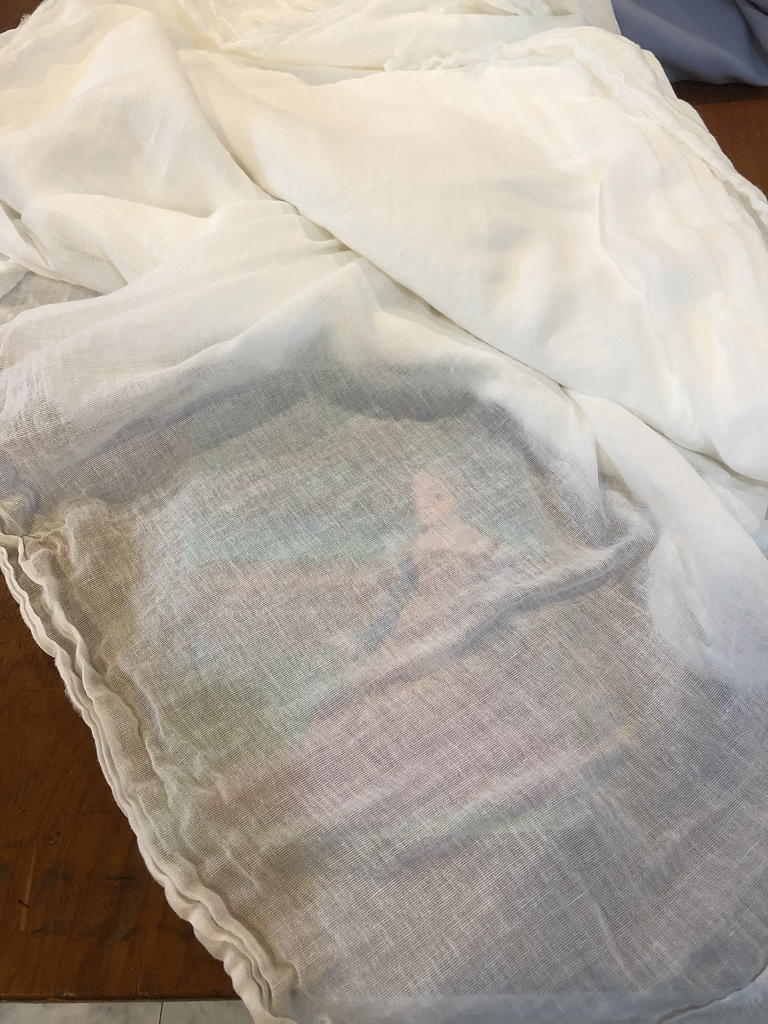 The fabric for the body of the dress does not show up properly in this photo. It is a lovely soft blue. I do not look good in red, so I had planned to search out dark blue and swap the colors. At Pennsic 2019, there was the *perfect* wool at one of the merchants. Unfortunately, I did not have sufficient funds on me at the time to purchase it. Running down the road to my camp and back, I was simply not fast enough. By the time I got back, the color I wanted had already been purchased. However, this soft blue was available. I look good in light blue. So why not? It's a spring-like color if not as saturated as the Master of France preferred.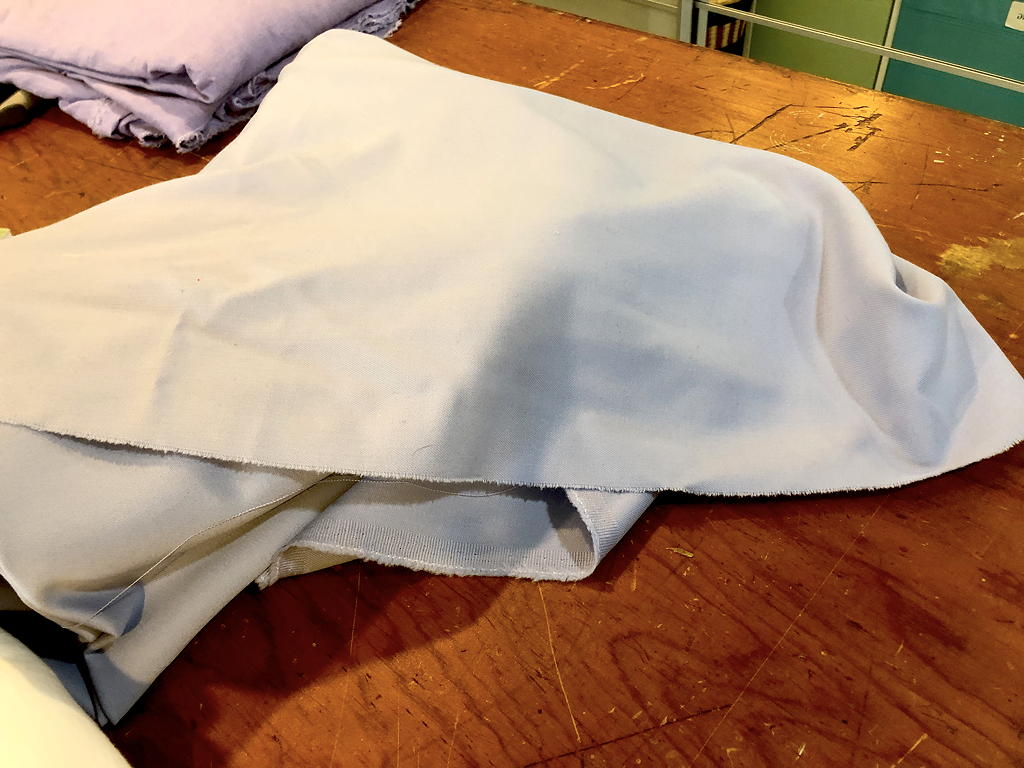 As I am unable to wear wool next to my skin, and I doubt that gauze would provide much protection, I plan to fully line the garment. I will be using this light purple linen/rayon blend from my stash.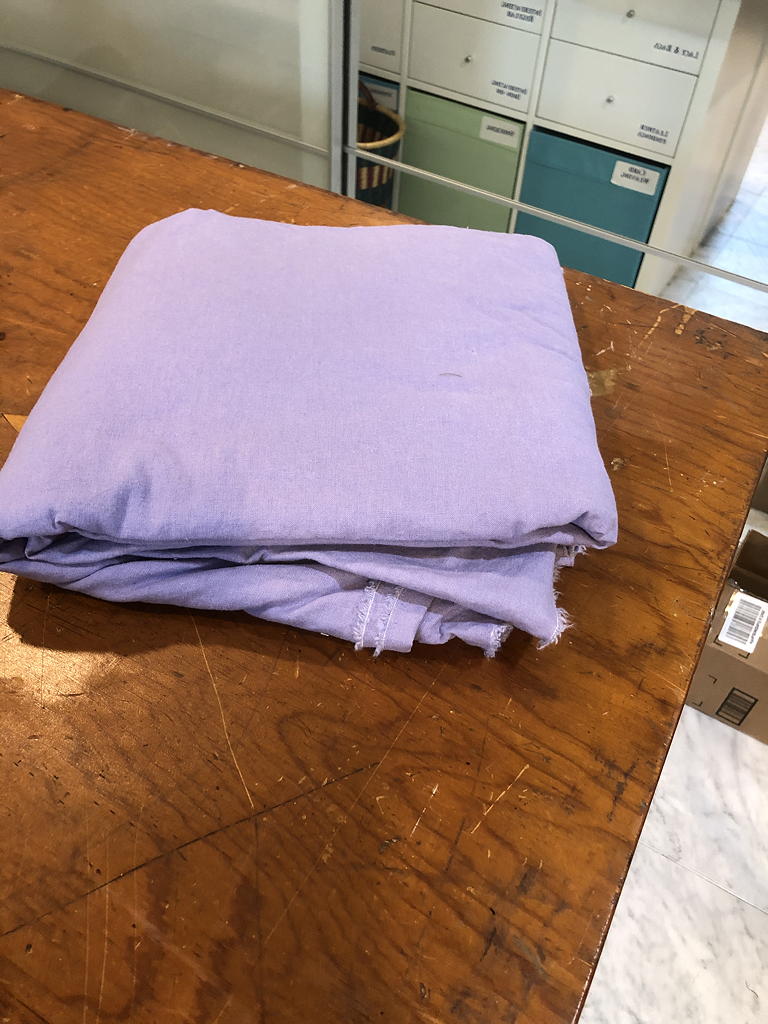 The sleeves… I have had a lot of difficulty matching the weight of the wool for the sleeves in anything like an appropriate color. I am now considering three choices. 1 – using the purple linen from the lining as the sleeve outer fabric. 2 – using a bright red 100% linen for the sleeves or 3 – using navy blue tropical weight wool. I may end up making all three and swapping them around.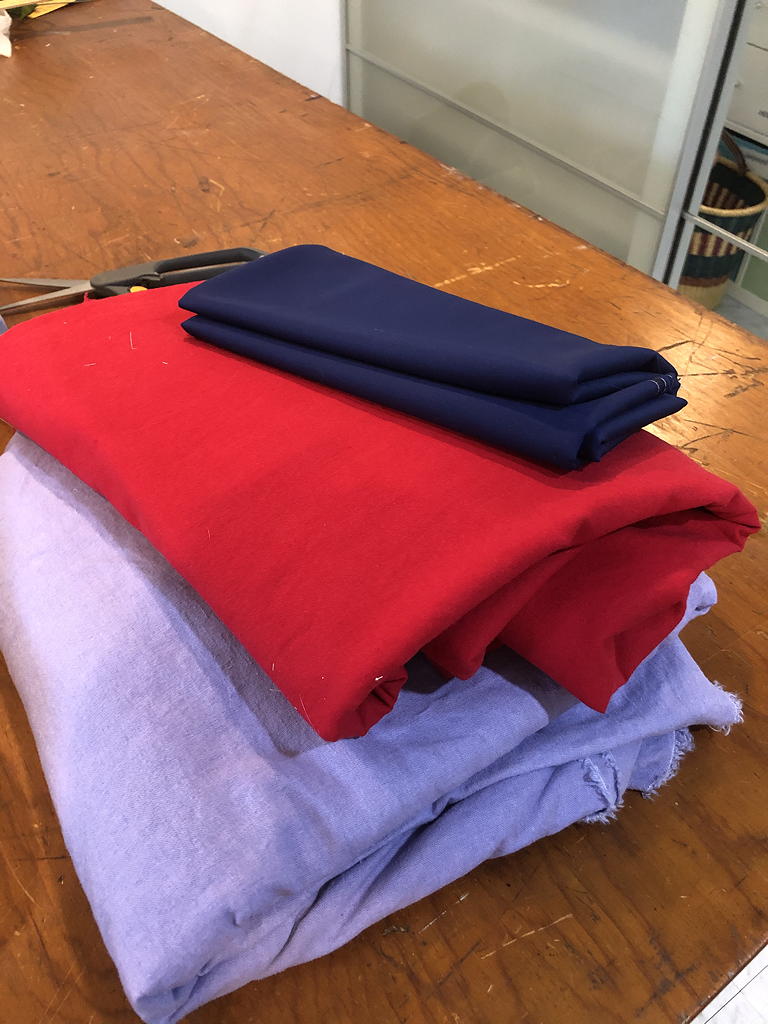 And the hat that started it all. As I stated earlier, I had been hoping that the linen gauze would be transparent 'enough' to work, but it looks too solid. Catherine-Aimée has a lot of options for making the hat, including silk illusion veil fabric (test pieces of that weight in purple) , silk chiffon, silk organza. She also has hat making stuff including wrapped hat wire, several weights of stiffened cloth to use for patterns, gold cording, etc. Catherine-Aimée, whose persona resides in this time period, has been experimenting with making her own garment starch. We have no idea if starching silk chiffon is even possible, but she is willing to experiment! There is also a close fitting dark colored cap under the transparent material. Cathrine-Aimée has two weights of dark wool, black linen, and black velvet to experiment with for the cap. The gray/silver fabric is what I originally purchased for the hat but it now looks too dark to me.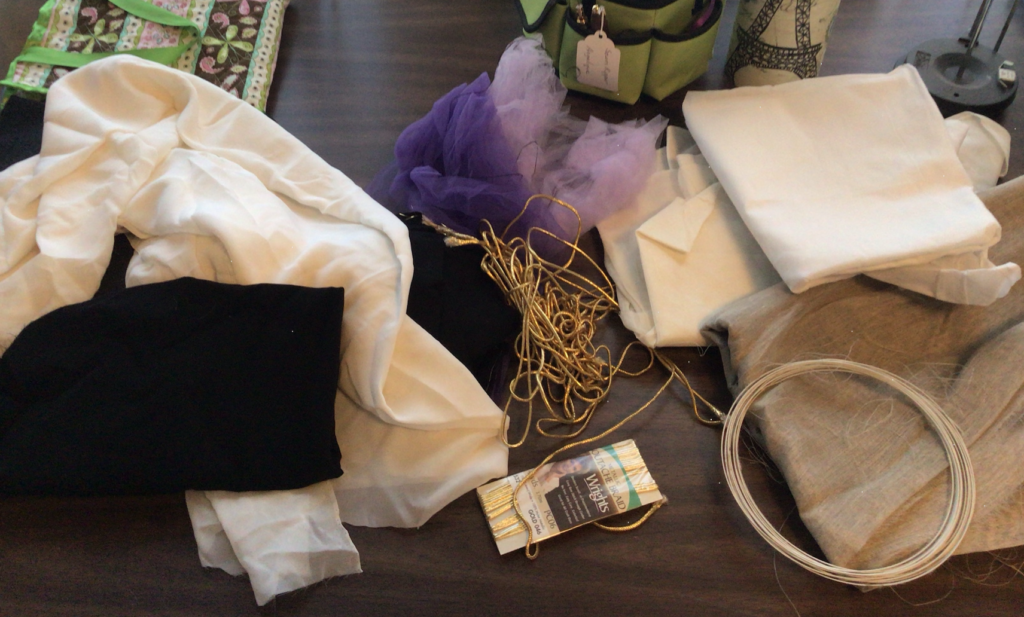 On the other hand, the silk organza is looking pretty good. It also has a stiffer hand than the chiffon and may not need starching.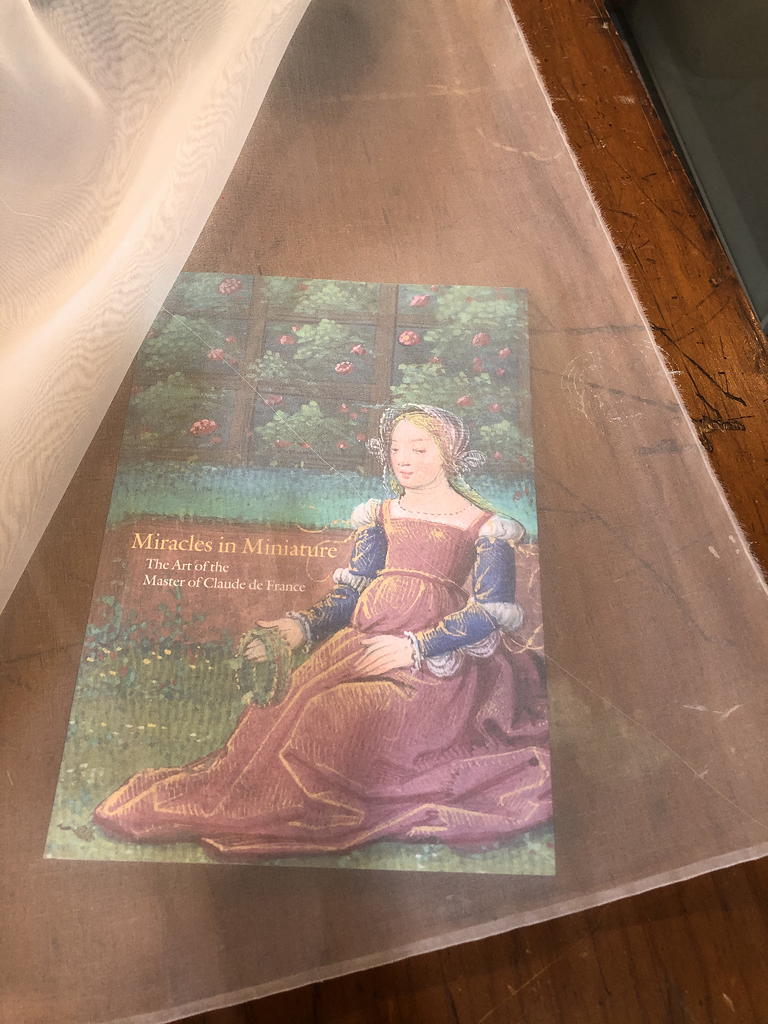 My plan is to show the research that went into each piece as I make it and describe it here in this thread. I will be making the chemise first.