Good morning, gentlefolk. Three weeks ago, this Castellana Vieja (Castilian Crone) reached the venerable age of 60 without consistently trying her hand at sewing. So I enter this competition to have some fresher wardrobe once this plaga maldita has run it its course and we can all meet again. Both of my abuelas are nodding vigorously and saying it was high time I did this, as they both were proficient hand-sewers in their day.

My proposed finished result is a saya encordada (corded dress) and a pellote (sideless surcoat) after the funeral gown worn by Leonor de Castilla (1191-1244), a granddaughter of Eleanor of Aquitaine and Henry Plantagenet, a princess of Castilla, and a queen of Aragón for a time.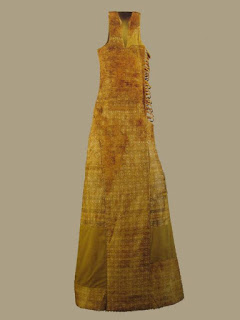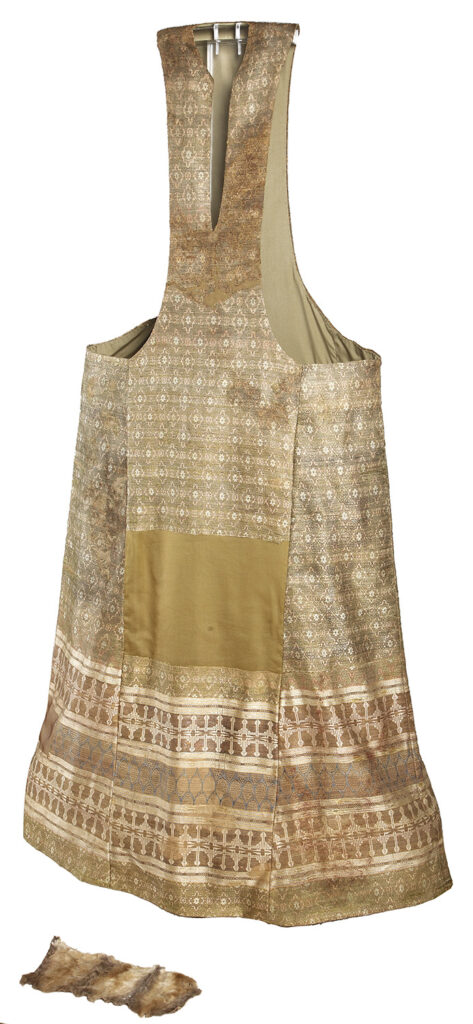 This funeral gown was made of woven silk, colored with vegetable dyes, with floral and geometric patterns, in green, cream, white, and gold. The cords were tubular tablet-woven silk in complementary colors and patterns of the gown. I have neither time nor budget to tablet weave my own cords, but I have already fashioned cords from strips of fabric sewn down one side right sides together, turned and slip-stitched, with aglets attached to the ends. The pellote was also made of woven silk, with complementary designs.
I had made a camisa (chemise) already last summer, of white cotton with a double fold hem. The silken portions of this ensemble were in remarkably good condition because the royal dead of 13th century Castilla were embalmed prior to burial and these church sepulchers managed to escape the ravages of the Napoleonic Wars. The extant cotton camisa was degraded because of contact with the skin, but enough was there to determine the hem's structure. If time allows, I will make another; I commit myself to the outer two layers for this event.
I. The Saya Encordada
A. The Drafted Pattern
Early in my time in this Society, I was wearing clothes my aunt had given me from her trips to places like Istanbul, or from clothes I had purchased from my trip to Andalucía, Spain (two lovely caftans: one velvety and couched in gold thread, the other cotton and couched in madder rose and white cords), or hand-me-downs from friends. I then made generic layered tunics and chemises, and requested help from more experienced tailors for more complicated projects. I occasionally purchased commercial costume patterns and got help to make them look more accurate.
It was high time I attempted to draft my own patterns, and I would have to do this for the saya encordada, an asymmetric sleeveless dress with an opening down the left side held together with cording. I work visually for things like this, and I was lucky to find a blog from Spanish Etsy vendor Ana Villanueva that contained this draft: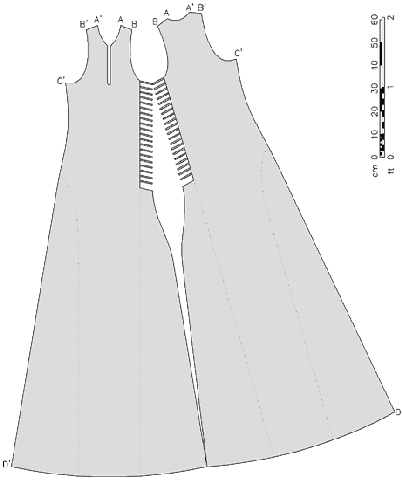 With that structure in mind, I took my measurements (a lady never tells), and came up with the following pieces for myself:
1. The Front and Back Panel Cuts
The captions for the images below are a straightforward description of the panels and their function. A previous attempt to make this gown resulted in a tight arm hole on the right side, so I will be cutting 1/2″ in lower. The deep cut down the left side left almost too wide a gap. The design was daring for its time, but my first attempt bordered on escandaloso. So I will be adding 1/2″-1″ of fabric down that side for this cut. All of my cuts include a 1/2″ seam allowance.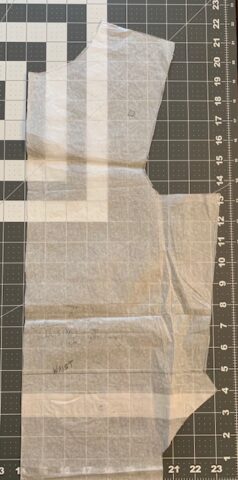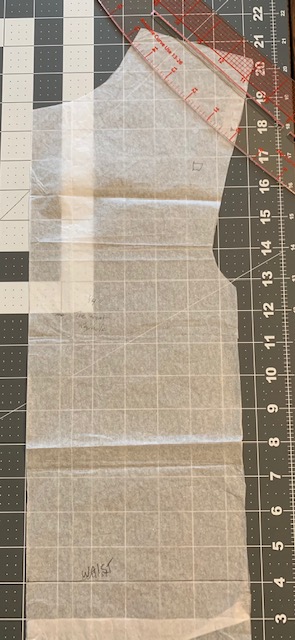 2. The Side Wedge Panels
Ana Villanueva's blog stated that she made the side panels of the saya with two rounded wedges with a fold at their respective centers, though four panels with a cut down the center instead of a fold is possible if there is a shortage of fabric. (I had done this with an earlier attempt when I was running low on lining and I did not dare to venture forth to get more.) The tops of the side wedge panels start where the waist ends and the hips begin.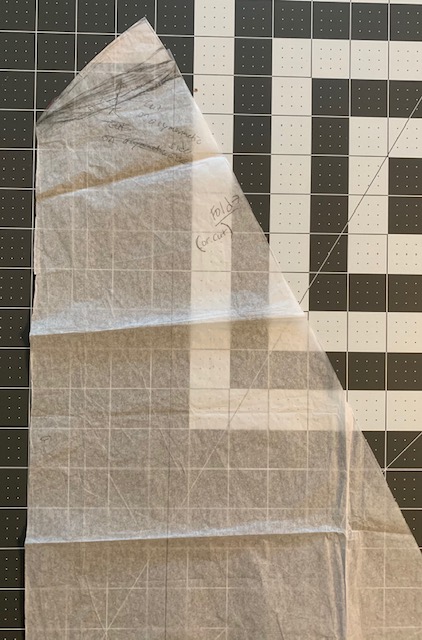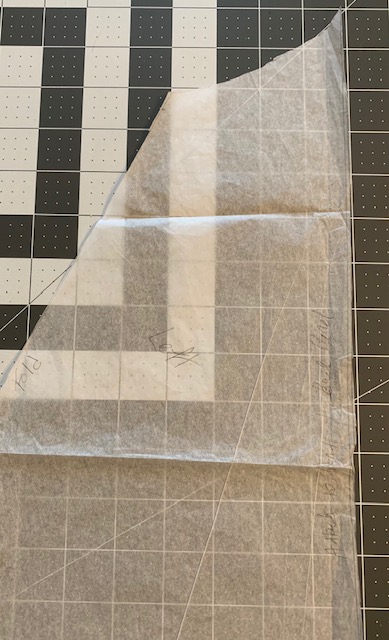 Cutting commences after lunch, possible initial sewing after that.