Monday, 3/1:
Scavenged a sewing machine needle and got roughly 80% of the way through the white pants before it broke. So close, yet so far.
I'm hand-finishing everything but at this rate it might be easier if I just hand sewed everything too. However, I'd like the clothing to last me a while and while I'm passable at hems and repairing handsewing this much clothing in such a short time does not lend itself well to sturdiness for me. At least all of the hand sewing means I can bust through some of the movies I've been meaning to watch as well.
Started embroidery on the white shirt. I am not very good at embroidery, and Russian redwork is similar to/almost the same as blackwork so it's a bit rough. Will hopefully improve but if not–it's easy enough to pick off later.
Got the red hat (kolpak) and the blue pants (shtany or porty, depending on source) cut out as well. Sewed together the taf'ja (skullcap) by hand, hated it, and cut out a new one after tweaking the pattern. Used the old one for a bit of practice in couching, something I've never done, before it goes in the bin.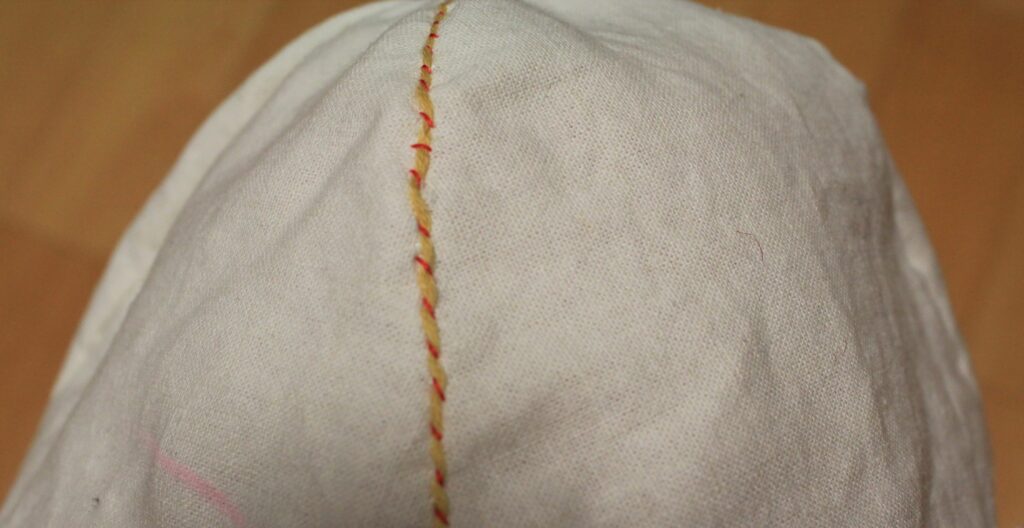 ---
Tuesday, 3/2:
Waylaid into socializing to prevent complete hermitage. Took my shirt to the cafe to unpick what embroidery I did yesterday–I had been sewing for speed and after sleeping on it wanted to do it over and make it a bit nicer. I'm sticking to an easier geometric pattern that I can add more on later if I have the time and energy.
Leather arrived, courtesy of my mother (спасибо!) and delayed a bit by customs. It's a bit of a darker red than expected but matches well with the wool blend I'm using for my outer hat and the lining of the kaftan. Now I'm just waiting on the kaftan fabric.
---
Wednesday, 3/3:
Got about an hour of embroidery done which amounts to roughly half of the bottom hem on the white shirt. It'll take a couple of passes to fill out the pattern completely, and I'm using a simplified pattern from a 19th century Russian embroidery book. Interestingly enough the book is written in Russian and French, between the two I can parse most of it.
I can't sew straight lines and that has not changed since the last time I embroidered something, which was years ago.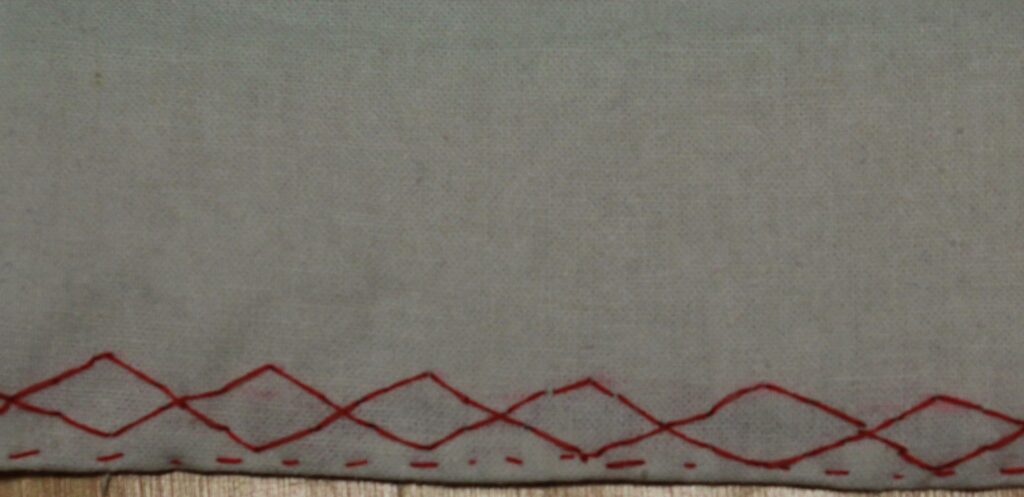 ---
Thursday, 3/4:
Delivery day: the replacement needles for my machine arrived, as well as my kaftan fabric. I'm honestly a bit disappointed in the fabric–it's upholstery fabric, and shinier than I would like. It's my fault for getting a bit too attached to the specific pattern, though. My first seller fell through and I had already done colour mockups with the fabric. I spent a week looking at other fabric choices but couldn't bear to separate myself from this specific pattern. While it's of dubious origins, the fabric can be tentatively traced to Topkapi Palace which was built in the 15th century. The pattern is also very similar to other Ottoman designs of the era, and is appropriately bold enough for me. It's currently in the wash with the hopes that my cheap detergent will take a bit of the shine out.
I've now got a new problem: I have four different red fabrics (linen, leather, wool, and now the poly upholstery) and they don't really match that well. The perils of having no fabric stores within roughly four hours of me, I suppose. I'm planning to use the fabrics I have, mismatch be damned, and do my best to like it.
I'll be doing a bit more embroidery on the shirt tonight. Hopefully I'll get the hemline mostly finished so that tomorrow I can finish it and the cuffs.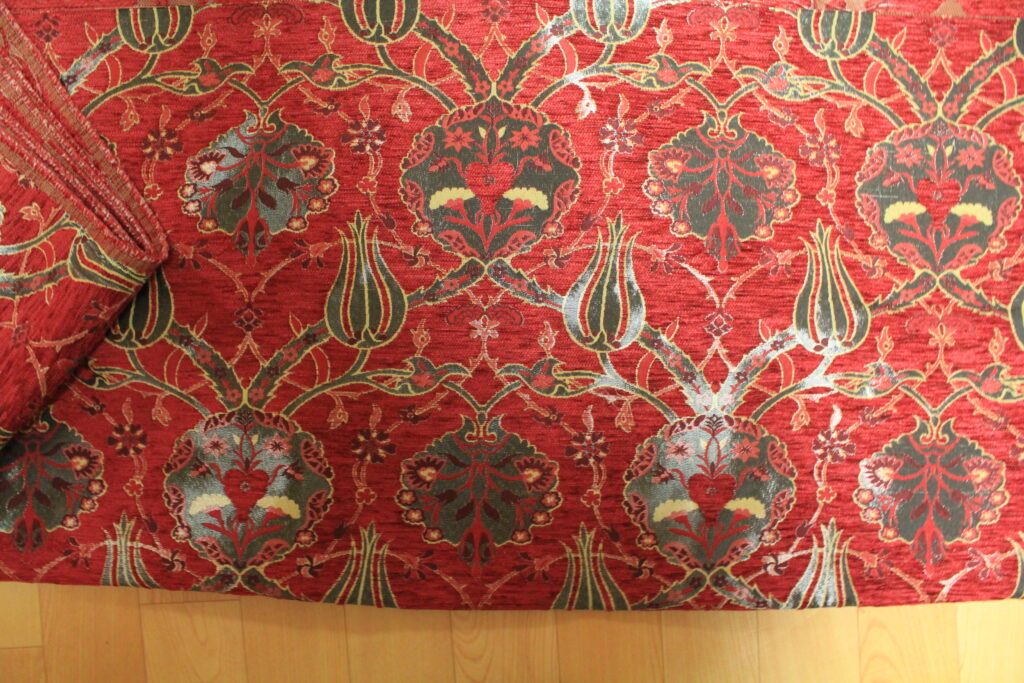 ---
Posted 3.4 at 19:08 local time