I started out this week with assembling the forepart and sleeves, shown in the pictures below.
Then I cut out and started assembling the gold overgown. Like the kirtle, the bodice is made up of a decorative outer layer, canvas inner, and lining. The first step is to fold the seam allowance of the outer fabric over the edges of the canvas, and baste it down.
At this point, while the inside of the panel is unfinished, I go ahead and apply all of the trim.
Then I tack down the lining with a prick stitch.
Each of four panels will be finished this way, then assembled.
I also received a question on the last post about the beading on the bodice. Based on a close up of the painting, it looks like the edge has a texture. I chose to replicate this with beads, alternating pearls and crystals.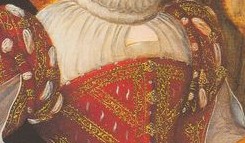 Now that I have all of the underlayers done, I also put everything on for the first time! Pictures of that are shown below.