OK, my fingers are toast! I am not a hand sewer, I love my sewing machine, it's so much faster than I am, and I'm not (usually) left bleeding at the end of making something. But this is for all the glory, so hand sewing it is. With that said, I decided to work on something not heavy on hand sewing, the circlet. Many of the crowns seen on the figures of the Chartres Cathedral Royal Portal are very simple.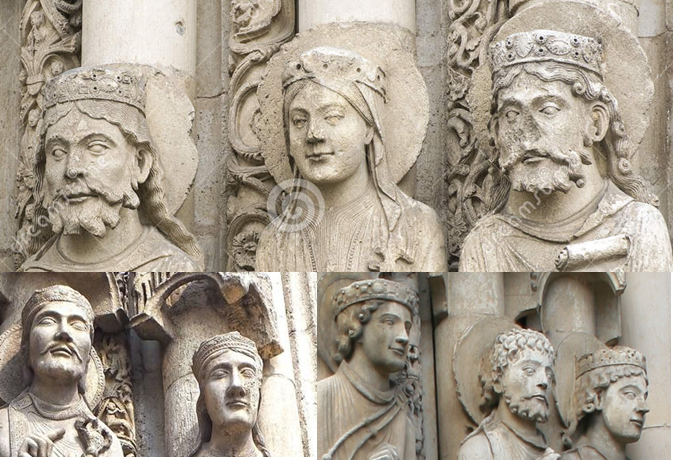 In a bizarre bit of serendipity while looking online for some furniture repair supplies, I ran across rolls decorative metal trim, one of which had a design very similar to the crowns worn by the two kings in the upper picture. With a roll of that and some other scrap bits of this and that I had around, my circlet was a piece of cake!
Because the veil is a very snaggy bit of silk, I would wreck it if I used just the metal trim which has a lot of rough and sharp edges. Therefore I decided to create a soft core piece to protect the silk and also to give some support to the metal trim which was surprisingly bendy (the stuff I remember from years ago was much more substantial). I started out with a core of very stiff decorbond interfacing. I covered this in iron on fleece for some padding, and then covered the whole of it in a small scrap of black linen. I then proceeded to sew a strip of the metal trim to the base to create the circlet.
If I decide to get really fancy, I could always sew in pearls or other gemstones into the ovals, but I kinda like it plain. Maybe I'll make a second one for special occasions….