Friday, 3/19:
My hands are starting to hurt from all of the hand sewing but the end is in sight. Got some of the work done on the zipun today before calling it a night.
---
Saturday, 3/20:
Time to stress. Got the kaftan lined and ready for hand finishing but the pattern no longer matches in the front (rip). The coat is very heavy, much more of a winter garment than the spring/fall one I was aiming for. Ah well, c'est la vie. I need winter garb anyways. It's also very stiff. That's something that's just going to take time to deal with, though. It'll soften up as I wear it more. I do really like how it looks–certainly a pattern I'd use again, and something I'm looking forward to wearing out and about.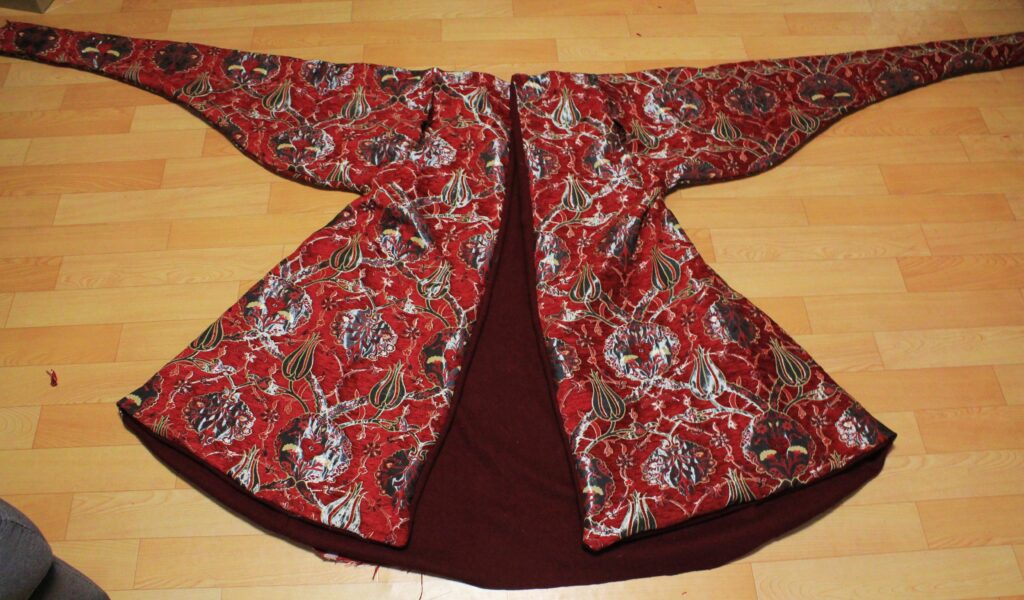 The sash is together and waiting for a hand-done hem. Socks are cut out and won't be hemmed–they're wool and hold together. They're actually just a rectangle of fabric, as seen in this video. Taf'ja also got the secondary layer I wanted for it. It's still not quite right but I'll be fixing it by hand. In the future I think I'd go straight for horsehair or interfacing to make it even stiffer.
Added a collar to the zipun after looking at my documentation again. Very proud of my sewing machine for managing the three layers of velvet. I'll be hand sewing the rest.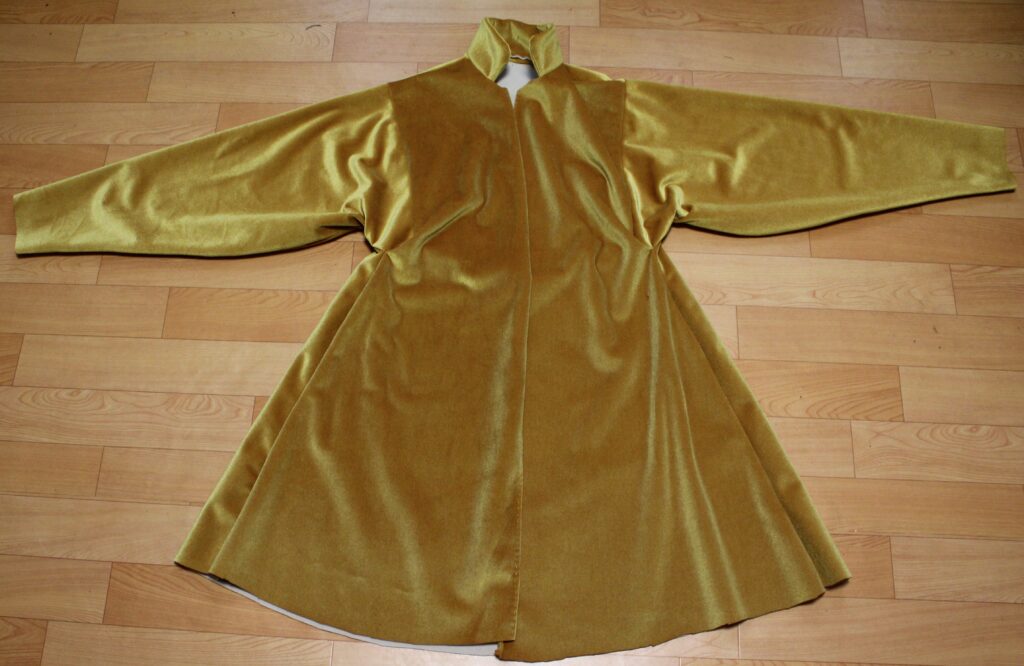 I'm done with everything I need the sewing machine for. My neighbors will be so pleased.
Started the boots, promptly realized I have no idea what I'm doing. Spent a few hours watching tutorials which didn't really help. I'm going to try a few things out and see how it goes, but I have a feeling they're gonna be pretty rough.
---
Sunday, 3/21:
Got the boots mostly together and I think the most I can say of them is that they're functional. This really just drove home that shoemaking is not something I wish to pursue. Kudos to everyone who does.
Quick trip to the store to get my materials for the fingerloop braids and I'm set for the week. My original materials created braids that were a bit too small for my taste.
There's a lot of work left to be done and I'm not entirely sure I'll finish. This outfit certainly has a lot of layers and the finishing details have never been my strong suit. I'll do what I can and see how it works out.
Tried everything on! Putting the pieces all on together has been something I've been looking forward to. I haven't put closures on the two coats so getting them to lie right was a bit of a struggle. A few things I noticed:
Kaftan arm opening needs to be larger, right now it lies and pulls strangely
Zipun sleeves are short compared to my shirt sleeves which reach mid-palm. I'll have to add some extra fabric there.
I don't like the zipun in general, but I think that's more a general dislike of velvet than anything else. I may remake this style of coat in a fabric I prefer in the future.
All these layers make me look real bulky. #swole
Thank god I went for an easy belt pouch style
---
Posted 3/21 at 17:28 local time