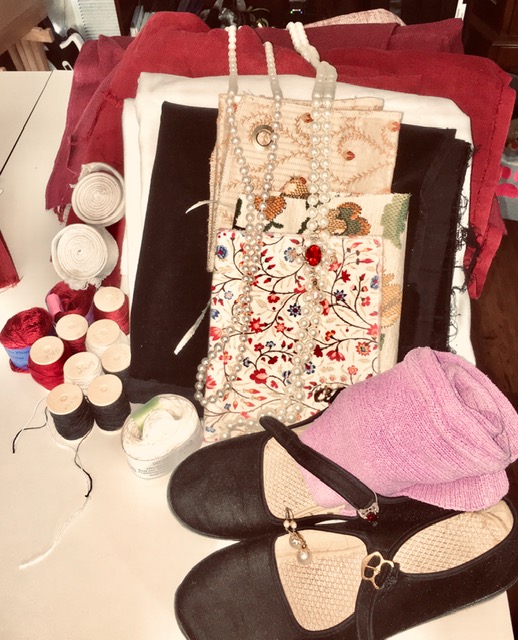 Hello, My name is Lady Angelina Capasso. I have always purchased my garb, and making it will be very new for me. I have made T-tunics and a chemise that was an extended t-tunic. I have several WiPs in boxes, and sewing machines are not my friend. I would like to sew everything by hand, and hope I don't run out of time.
I intend to create an ensemble as befits an upper class lady in Tudor England, including chemise, skirt, apron, and bodice. This alone is intimidating for me. If time allows, I would like to also create "pre-embroidered" pockets, a mock sweet bag, and a hat of to-be-determined style. I would love to embellish my chemise with hand-done blackwork, and purchased lace.
I am using as much period materials as I can. My chemise is cotton, instead of linen or silk. My skirt will be linen, which is period, but as upper class, would more likely have been wool or silk. My apron is velvet, which is very period as it is a highlighted clothing item. My bodice will be linen, backed with cotton canvas. An upper-class woman would have been more likely to have wool or silk. I will be using linen and silk thread. Linen thread was very commonly used, with silk where it can be seen. I have made linen twill tape, and hopefully there will be enough, in the correct colors.

My shoes were purchased, with the buckles replaced by me to be more sturdy and period. My stockings were a gift- they are knit silk, in a period style. My jewelry consists of lots of (faux) pearls, with glass rubies. Both pearls and glass jewels are super period.

I will be following the _Tudor Tailor_ book for my patterns, with advice from Lord Bartholomew Sharpe. (I would like it noted that although m'Lord and I are in a relationship, he would willingly advise anyone, and he will not work on the project itself. All work will be done by me, except where said items were bought.) Other references are _Patterns of Fashion 5_, and _Womens Dress Patterns_.

Thank you for the follow!