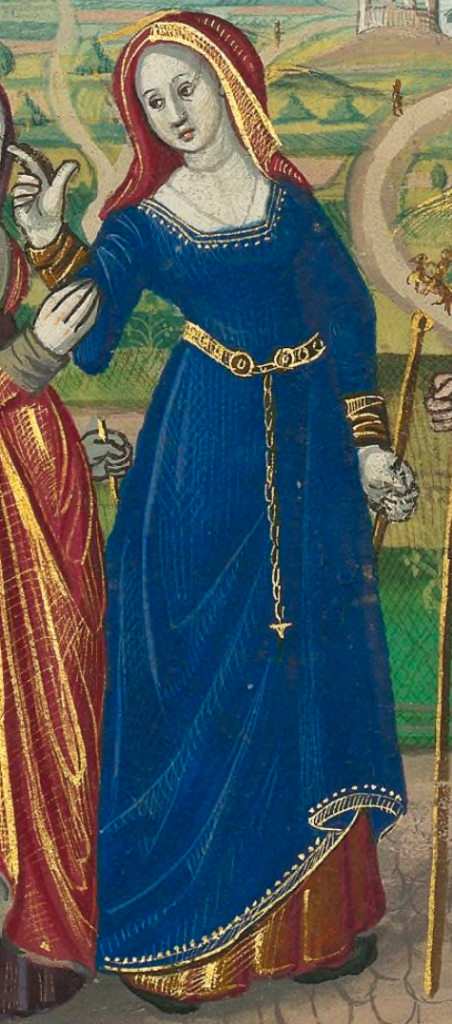 Greetings! I am Kitta Refr, and I hail from the Barony of Rivenoak in the Kingdom of the West. I am entering into the Advanced category, and my entry is a late 15th century French outfit based on those worn in the illuminated manuscript, Vie et miracles de monseigneur saint Louis ou Livre des faits de monseigneur saint Louis, or Life and miracles of Monsignor Saint Louis or Book of facts of Monsignor Saint Louis. This manuscript was published somewhere between 1480-1488. Specifically, my outfit is based on this particular woman, along with inspiration on other parts of the book, such as one of the many alms pouches depicted in other scenes.
I will be making the following pieces, using self-drafted patterns:
Red hood with lyrepipe – wool, lined in linen
Teal cotehardie – 85/15% wool/nylon blend, partially lined in linen, lacing is teal lucet woven wool/silk blend
Red supportive kirtle – linen, self lined, lacing is black cotton corset lacing
Partlet – silk gauze
White shift (partially assembled already), – cotton/ linen blend
Yellow hose – wool
Teal and yellow tablet woven or inkle woven ties to hold up hose – mercarized cotton
Red alms pouch – woven patterned satin, unknown fiber, lined in white linen, with synthetic gold satin cord and tassels
I have already made or acquired the following pieces:
St. Birgitta's cap – white cotton/ linen blend, already owned
Shoes – brown leather, purchased from Armstreet
Belt – brown leather with brass findings, purchased from Armstreet
My stretch goal is to add embroidery and possibly beading similar to that pictured above along the neckline of the cotehardie IF I have enough time, using gold couched thread and red glass beads and/or pearls.
My original plan was to hand sew everything, but between this project and going to school full time, along with other commitments, I decided that was probably not feasible in one month. Therefore, I will be machine assembling each piece (other than the shift, which is nearly done), and finishing all visible seams by hand.
I am so excited to start this challenge! Here is a picture of all of my materials (except the gold satin cord for the alms pouch, that's still on it's way).