Once one has drafted a pattern that works you do have to actually cut the silk. In this case, silk interlined with linen, with an interlining of coarse linen and wool, and finally a silk lining.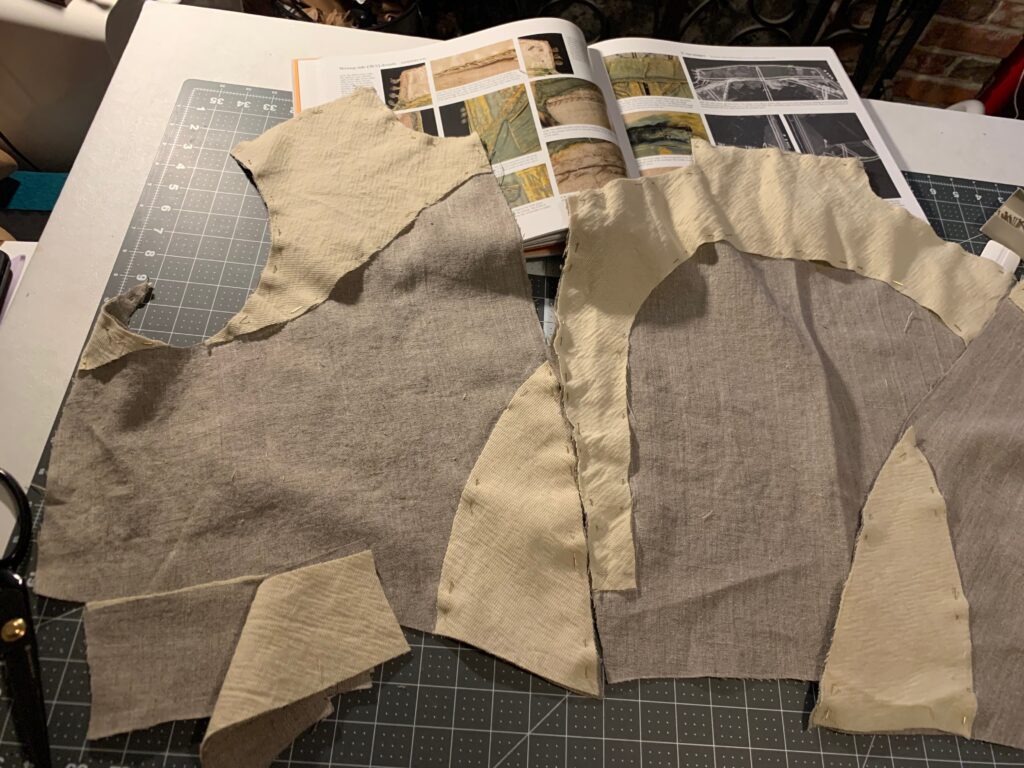 This evening I will padstitch the interlining of coarse linen and wool in the main torso and collar, and baste the silk taffeta to the medium weight linen so they respond as one fabric. Construction will follow these steps.
The skirt is constructed fully.
The pad-stitched doublet fronts will be attached to the outer fabric and sealed at the top and front by the lining fabric.
The front panels of the doublet and interlinings will be joined together.
The skirt will be sewn to the WS of the interlining layer.
Finally, the silk lining will be sewn over the edges for a clean finish.
The pad stitching will be done with a bronze needle and coarse linen thread. I will baste with a fine steel needle and fine linen thread (unwaxed). The doublet construction will use mostly a 60/2 linen thread.
More details on on the cutting process can be found here: Fioredibardi.net
Ciao!
I am Nobildonna Fiore Leonetta Bardi (Fee-oh-re) also known as Fiore di Bardi (she/her). Primarily a costumer, I specialize in Florentine dress from the mid-1560s to ~1590, hand sewing, and embroidery. My area of interest includes research of life as an illegitimate woman in Florence, the Florentine Camerata, artifacts and practices for a noblewoman of this time — including the practice of hunting and falconry in Florence, and Florentine textiles. I am increasingly interested in the people we try not to see and which most would have tried not to see even in the 16th-century, namely those of mixed race in Europe. Especially how a person of my lineage (I am of African, French, and Spanish descent) would have lived in 16th century Italy. Motto: Penso e Creo * Blog: www.fioredibardi.net * Instagram: @dressingflorentine