G. How Abuela Would Do Hems
1. Hemming the Dress
Both of my grandmothers were proficient hand-sewers who also knew their way around a machine. The earliest memories I have, other than those of hearing everyone in my family conversing in Spanish, are those of my maternal grandmother mending hems or seams as needed in her clothing. I almost always saw her double fold her hems and whip stitching to an almost microscopic level. She had very thick glasses; she probably already could sew with that kind of proficiency, but those lenses didn't hurt. I also saw her using hem tape.
I had to dig deep into the recesses of my past for an answer as to which she used and why. The double fold and whip stitching were used for heavier or more durable fabric, the fabric hem tape was reserved for the fine and slippery stuff that was harder to double fold. If this rationale was good enough for Ofelia Meulener de Cárdenas, it is good enough for me.
In my case, I also used hem tape on the front and back panels of the saya, since those had included selvage, and I did not want to be bothered with a double fold there.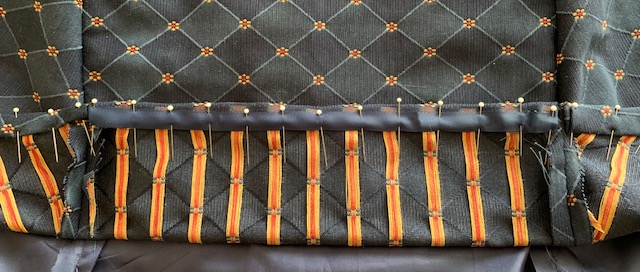 Another post will follow this, as I have to get some groceries before a predicted windstorm arrives here in about two hours.